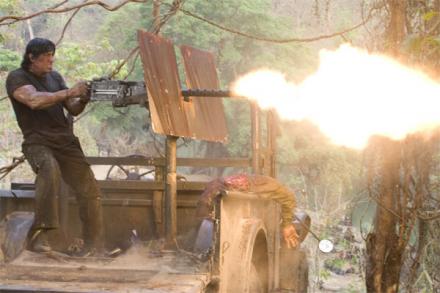 We all know that movie critics and fans of genre fare get along together like a giant serpent and Conan the Barbarian, but the maddening tug-o-war currently raging over Rambo's merits is ridiculous. Consider: On IMDB, the Sylvester Stallone sequel has a fantastic user-rating of 8.5/10 based on more than 4,000 votes. This consensus is good enough to put the film at #195 out the top 250 films ever! Lest you think this gap is an anomaly limited to one site, Rotten Tomatoes's critic meter has Rambo at just 38%, while the site's users have it at 72%. On Metacritic, based on 19 reviews from the nation's critics, it's currently at 46/100, while around 100 users have it at a fantastic 9.1/10.
My review of the film will be in shortly, but we at /Film are more than curious to know what you thought about Rambo. Did the audiences seem this enthused and satisfied at your screening? Do you think the film's terrible critical reception was enhanced by its lack of advance press screenings, always attributed by writers as a sign of a failed film or even a professional snub? Are New York-based film critics simply smarter than the rest of the human race? I kid. Are online users simply figuring in the film's ginormous death inflation when compared to its predecessors? Did any of you dig Rocky Balboa but feel let down by Rambo, or vice versa for the bloodletters?
Can we make any sense of this divide? If you were apart of those who helped the film gross $18 million plus this weekend (rather impressive, I'd say), chime in. Somewhere deep in the jungle, Rambo is watching.
fantastic head loppings and torso halvings - a new action classic. hard to believe they wouldn't screen this for reviewers. oh ...wait. right.
Most violent movie I've ever seen, hands down. It made damned sure that the violence wasn't entertaining - it had a point. However, the movie itself is basically pretty bad, and just plain weak. Having said that, I really quite enjoyed it. I would be more verbose, but... I'm a torn man. I KNOW it's no damned good, but I STILL LIKE IT!
When I went and saw Rambo, it was Sat at 11:45 AM. Despite the early time, there was a 3/4 full house and there were audible cheers and high fiving going on. People are INTO this movie. I thought it was great. The best action movie I've seen in forever.
some people warn that some movies may contain violence well in this the violence may contain a movie and it was awesome I loved Rambo
I think there needs to be more attention paid to the difference between a film and a movie. Not to split hairs semantically, but what Stallone makes are definitely movies. Entertainment, period. Film is the thing that people study and analyze. Critics -- film history teachers, pretentious guys in sweaters, whatever -- as educated as they might be, usually fail to see the fucking difference. Okay, so what I'm saying might sound completely batshit ridiculous, but you know what I mean, right? Entertainment journalists go to school and learn how to professionally evaluate the artistic merit of a motion picture. People who pay nine bucks to see it will walk away feeling a little more satisfied if there was explosions involved. Ah, Rambo... The great divider.
Visit here to subscribe to these comments
---
Recommended Feeds/Actions