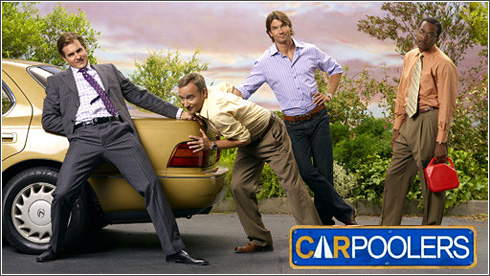 En EE UU el "carpooling" es compartir coche entre varias personas para ir al trabajo, por ejemplo. Esto permite utilizar carriles especiales para vehículos de alta ocupación —lo que aquí es el carril BUS/VAO para autocares, coches con dos o más ocupantes y motocicletas.
La serie Carpoolers va de cuatro amigos que comprarten coche para ir a trabajar. En realidad lo de compartir coche es un poco la excusa para desarrollar una serie simpática y entretenida, que tiene cierta facilidad para provocar la carcajada —aún sin ser excesivamente brillante y sí en cambio un poco previsible.
"Lo que ocurre en el coche, se queda en el coche"
El resto del día los cuatro protagonistas trabajan en las mismas instalaciones y son vecinos, de modo que las implicaciones de los cuatro y sus familias en distintas situaciones están aseguradas.
Actualmente se han emitido siete capítulos de veinte minutos de duración, de un total previsto de diez. Te gustará si te gustó The IT Crowd; aunque Carpoolers no tiene ningún componente geek resulta igual de fresca y simpática.
Actualmente no se emite en España ni está doblada al español, aunque hay subtítulos de terceras partes hasta el sexto episodio.
---
Visit
here
to unsubscribe.
Recommended Feeds/Actions