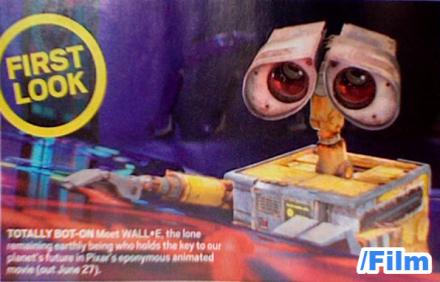 A new photo of Pixar's WALL-E was published in the new issue of Entertainment Weekly (the one with Heath Ledger on the cover). I'm still at Sundance so I don't have access to any scanning equipment, but I was able to snap a make-shift photo with my Macbook pro's isight camera. Click on the image above to enlarge. WALL-E hits theaters on June 27th 2008.
This may just be Pixar's best film yet.
Yay! This has restored my faith in the film. Of course I was super pumped at first, but then I stared to get tired of the whole robot alone with no dialogue thing. But I had totally forgotten about how insane/awesome his adventures in space are going to be! I hope they don't release any of the non-earth stuff in trailer form, it'll be too hard to resist if they do...
Visit here to subscribe to these comments
---
Recommended Feeds/Actions