A second concept art photo for Pixar's Up (shown above) was found on display at Disney's Hollywood Studios in Orlando Florida. Click on the photo above to enlarge. What do you guys think?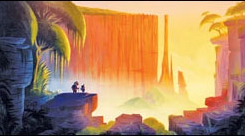 Monsters, Inc. director Pete Docter is helming the project, which is scheduled to hit theaters on June 12th, 2009. Doctor told Time Magazine that Up is a "coming-of-old-age story about a seventy-something guy who lives in a house that looks like your grandparents' house smelled." He befriends a clueless young Wilderness Ranger and gets into lots of altercations. Says Pixar: "Our hero travels the globe, fights beasts and villains and eats dinner at 3:30 in the afternoon." The photo to the right is the first concept photo released from the film.
Rumor has it that Up might actually be a re-telling of the classic Don Quixote fable. For almost 60 years now the Walt Disney Company has been trying to turn Don Quixote into an animated feature film, but without success. The episodic nature of the fable is often cited as the major sticking point. More information on that unconfirmed rumor can be found here.
source: PixarPlanet
that is awesome. Once again, totally not what i was expecting it to look like. I was imagining more of a Geri's Game type character in a world much like the island from The Incredibles. exactly 6 months from today 'til the teaser!
Visit here to subscribe to these comments
---
Recommended Feeds/Actions