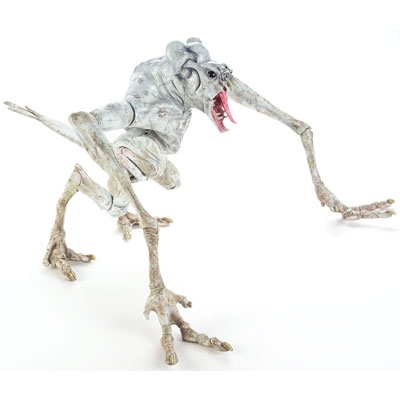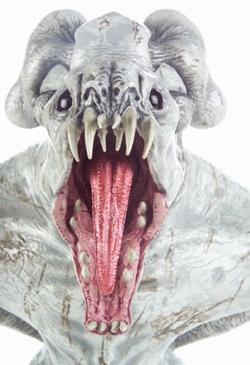 Hasbro has finally revealed photos of the Cloverfield Monster action figure. The Cloverfield Monster Toy Features:
* 70 points of articulation and incredible life-like detail
* Authentic sound
* 14" tall
* 10 parasites
* Two interchangeable heads
* Statue of Liberty head accessory
* Special Cloverfield collector's edition packaging
The Cloverfield monster is available exclusively through HasbroToyShop.com for $99.99  Reserve your Cloverfield monster today to have the opportunity to receive it when it ships later this year.  Limited quantities are available. Includes 3 "AAA" Batteries.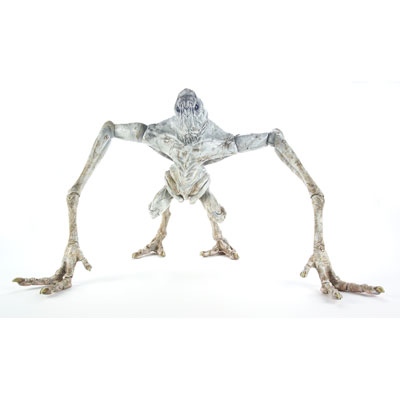 Looks like a wingless bat. Wonder if that's where the "creature" came from.
hey i only saw cloverfield this week because i haven't had time. but if i saw a link to an article that said "Cloverfield Monster --- Revealed" i would have avoided clicking that link. much like the links to the reviews of the film and everyone commenting on it. no spoiler alerts needed here, just a little will power to move on.
Cinemaniac, I am a big J.J. Abrams fan and do have a serious desire to see this film. Unfortunately Im a full time student that also works a night job, and I honestly haven't found the time. The last film I saw in theaters was There Will Be Blood. But I respect your opinion.
Awesome. Thanks, Pete! All that carefully avoiding spoilers for the last month shot down the tubes. Cinemaniac1979, I *was* serious about not being spoiled, and I haven't had time to go see the thing yet. Guess this means if I'm avoiding spoilers, I can't come here either. At least now I know.
That's Clover's albino cousin. Please don't make fun of his "condition".
Looks like crap. Shame someone with better talent and quality in mind couldn't have created the action figure. Looks like something that would go for $10 rather than $100.
So, to recreate the head breathing sac, you just have to keep switching back between the two heads really, really fast?
Not to diss on a bitch, but the monster looked fatter in the movie.
Jeff, I think everyone who was really serious about not having the monster spoiled for them has already managed to find 80 minutes to watch the movie. Quit trollin'
"Statue of Liberty's head" has to be one of the best toy accessories ever.
As an avid film to toy collector this is one of the worst modeling jobs I've seen. It's like someone described the monster to Hasbro and they imagined the rest. I'm not going to give away any more details of the creature, but Jeff's got nothing to worry about if he hasn't seen the flick yet. It's much more impressive in the film. And no, it wasn't white.
it was white???? that dosent really look anything like the monster from the movie.
Great. Some of America has not seen this movie... This blog is usually really good about keeping spoilers hidden for only those that wish to see. Hopefully seeing the monster first won't have an effect on the film.
I think this looks pretty cool, about what I remember from the movie. Now I just wish they'd release pics of the parasites...
color seems a bit off
Visit here to subscribe to these comments
---
Recommended Feeds/Actions