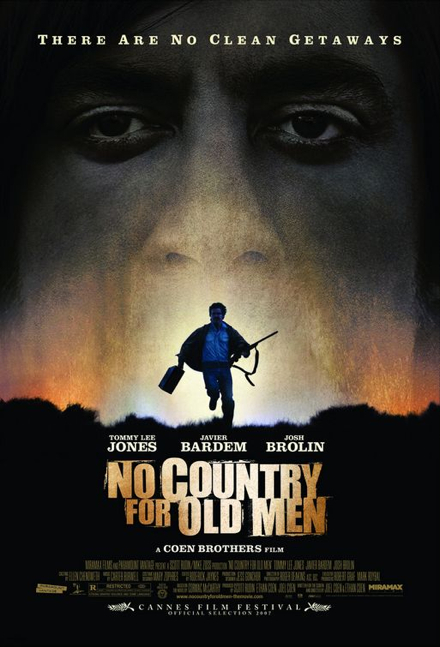 Here is a listing of the 2008 Academy Award winners, followed by some commentary. Tell me what you think of the winners and losers in the comments below.


Best Picture
No Country for Old Men
Atonement
Juno
Michael Clayton
There Will Be Blood


Best Director
Joel Coen and Ethan Coen for No Country for Old Men
Julian Schnabel for The Diving Bell and the Butterfly
Jason Reitman for Juno
Tony Gilroy for Michael Clayton
Paul Thomas Anderson for There Will Be Blood

Best Actor
Daniel Day-Lewis in There Will Be Blood
George Clooney in Michael Clayton
Johnny Depp in Sweeney Todd
Tommy Lee Jones in In the Valley of Elah
Viggo Mortensen in Eastern Promises
Best Supporting Actor
Javier Bardem in No Country for Old Men
Casey Affleck in The Assassination of Jesse James by the Coward Robert Ford
Hal Holbrook in Into the Wild
Philip Seymour Hoffman in Charlie Wilson's War
Tom Wilkinson in Michael Clayton

Best Actress
Marion Cotillard in La Vie en Rose
Cate Blanchett in Elizabeth: The Golden Age
Julie Christie in Away From Her
Laura Linney in The Savages
Ellen Page in Juno
Best Supporting Actress
Tilda Swinton in Michael Clayton
Cate Blanchett in I'm Not There
Ruby Dee in American Gangster
Saoirse Ronan in Atonement
Amy Ryan in Gone, Baby, Gone

Best Original Screenplay
Diablo Cody for Juno
Nancy Oliver for Lars and the Real Girl
Tony Gilroy for Michael Clayton
Jan Pinkava, Jim Capobianco, Brad Bird for Ratatouille
Tamara Jenkins for The Savages

Best Adapted Screenplay
Joel Coen & Ethan Coen for No Country for Old Men
Christopher Hampton for Atonement
Sarah Polley for Away From Her
Ronald Harwood for The Diving Bell and the Butterfly
Paul Thomas Anderson for There Will Be Blood
Best Animated Feature
Ratatouille
Persepolis
Surf's Up

.
.
Best Documentary Feature
Taxi to the Dark Side
No End in Sight
Operation Homecoming: Writing the Wartime Experience
Sicko
War/Dance
Best Art Direction
Dante Ferretii and Francesa Lo Schiavo for Sweeney Todd
Arthur Max (Art Direction); Beth A. Rubino (Set Decoration) for American Gangster
Sarah Greenwood (Art Direction); Katie Spencer (Set Decoration) for Atonement
Dennis Gassner (Art Direction); Anna Pinnock (Set Decoration) for The Golden Compass
Jack Fisk (Art Direction); Jim Erickson (Set Decoration) for There Will Be Blood
Best Cinematography
Robert Elswit for There Will Be Blood
Roger Deakins for The Assassination of Jesse James by the Coward Robert Ford
Seamus McGarvey for Atonement
Roger Deakins for No Country for Old Men
Janusz Kaminski for The Diving Bell and the Butterfly
Best Costume Design
Alexandra Byrne for Elizabeth: The Golden Age
Albert Wolsky for Across The Universe
Jacqueline Durran for Atonement
Marit Allen for La Vie En Rose
Colleen Atwood for Sweeney Todd

Best Film Editing
Christopher Rouse for The Bourne Ultimatum
Juliette Welfling for The Diving Bell and the Butterfly
Jay Cassidy for Into the Wild
Roderick Jaynes for No Country for Old Men
Dylan Tichenor for There Will Be Blood
Best Foreign Language Film
The Counterfeiters
Beaufort
Katyn
Mongol
12
Best Makeup Oscar Nominees 2008
Didier Lavergne, Jan Archibald for La Vie en Rose
Rick Baker, Kazuhiro Tsuji for Norbit
Ve Neill and Martin Samuel Pirates of the Caribbean: At World's End

. .
Best Original Song
Once for "Falling Slowly" Music and Lyrics by Glen Hansard and Marketa Irglova
Enchanted for "So Close" Music by Alan Menken; Lyric by Stephen Schwartz
Enchanted for "That's How You Know" Music by Alan Menken; Lyric by Stephen Schwartz
Enchanted for "Happy Working Song" Music by Alan Menken; Lyric by Stephen Schwartz
August Rush for "Raise It Up" by Jamal Joseph, Charles Mack and Tevin Thomas
Best Original Score
Dario Marianelli for Atonement
Alberto Iglesias for The Kite Runner
James Newton Howard for Michael Clayton
Michael Giacchino for Ratatouille
Marco Beltrami for 3:10 To Yuma

Best Sound Mixing
Scott Millan, David Parker and Kirk Francis for The Bourne Ultimatum
Skip Lievsay, Craig Berkey, Greg Orloff and Peter Kurland for No Country for Old Men
Randy Thom, Michael Semanick and Doc Kane Ratatouille
Paul Massey, David Giammarco and Jim Stuebe for 3:10 To Yuma
Kevin O'Connell, Greg P. Russell and Peter J. Devlin for Transformers
Best Sound Editing
Karen Baker Landers, Per Hallberg for The Bourne Ultimatum
Skip Lievsay for No Country for Old Men
Randy Thom, Michael Silvers for Ratatouille
Matthew Wood for There Will Be Blood
Ethan Van der Ryn, Mike Hopkins for Transformers
Best Visual Effects
Michael Fink, Bill Westenhofer, Ben Morris and Trevor Wood for The Golden Compass
John Knoll, Hal Hickel, Charles Gibson and John Frazier for Pirates of the Caribbean: At World's End
Scott Farrar, Scott Benza, Russell Earl and John Frazier for Transformers
2008 Honorary Academy Award
Robert F. Boyle (For career in Art Direction)
Best Animated Short Film
Peter & the Wolf
I Met the Walrus
Madame Tutli-Putli
Même les Pigeons vont au Paradis (Even Pigeons Go To Heaven)
My Love (Moya Lyubov)

Best Live Action Short
Le Mozart des Pickpockets (The Mozart of Pickpockets)
At Night
Il Supplente (The Substitute)
Tanghi Argentini
The Tonto Woman
Best Documentary Short
Freeheld
La Corona (The Crown)
Salim Baba
Sari's Mother
Good Quotes from Host host Jon Stewert:
"No Country For Old Men, Sweeney Todd, There Will Be Blood. All I can say is: thank God for teen pregnancy."
"Even Norbit got a nomination, which is great. Too often, the Academy ignores movies that aren't good."
"Diablo Cody wrote Juno, such a great movie. Cody used to be an exotic dancer and now she's an Oscar-nominated writer. I hope you're enjoying the pay cut."
"Film Editing, alright. Someone just took the lead in their office pool based on a guess!"
My Thoughts:
The opening which combined characters from some of the most memorable films of all time was EPIC.
Transformers got screwed for Best Visual Effects. Did any of the academy members who voted for The Golden Compass have 20/20 vision?
Of all the nominees in the best supporting actress category, Tilda Swinton was the least expected contender for Michael Clayton. But somehow Swinton beat out Cate Blanchett in I'm Not There, Saoirse Ronan in Atonement and Amy Ryan in Gone Baby Gone. How could this have happened? Amy Ryan deserved the win, even Tolda looked shocked when they read her name.
Enchanted had three of the five original song nominations, but the power of Once could not be stopped. I'm so glad that Glen Hansard and Marketa Irglova took home a statue. They deserve it. And how fucking cool was it for Jon Stewert/The Academy to bring Marketa back on stage to speak after the music cut her off.
How cool is it to hear Greenwood's There Will Be Blood theme being played as people walk to the stage?
I was so much looking forward to what Michael Moore was going to say once he got up on the Oscar stage once again. And besides, he deserved to be there, but it didn't happen. And I'm still angry that The King of Kong wasn't even nominated.
Diablo Cody wins best screenplay - Hell yeah. And how great was it to see the tough girl breakdown.
In true Oscar fashion, The Coen Brothers were rewarded by the Academy for their combined filmography, where Paul Thomas Anderson clearly deserved the Best Director and Best Picture awards.
The 2008 Academy Awards has come to a close. There Will Be Blood lost to No Country, The Bourne Ultimatium had three wins, Norbit and Transformers lost, and Diablo took home a gold statue.
What did you think?
Do you agree with the winners?
Ellen Page delivered a flawless performance in a movie in which she had to carry every scene (something she had done previously in a very different role in the movie Hard Candy). In a film that topped the box office of any nominated film for best movie. Did she deserve the Oscar YES but is that Academy going to give that big of an award to an indie film that people enjoyed watching... NO.
whatever, tina fey pretty much summed up ellen page's performance in that awful snl skit a couple of posts down, i guess now she should be nominated for an emmy.
I'm not shocked Ellen Page didn't win, though I felt she was the best in the bunch (not having seen Linney in The Savages, though). However, I was expecting and would have been OK with Christie winning. Marion gave an decently good performance, that would have been nothing without makeup, in what was one of the most painfully bad films I've had the misfortune to watch. I watched it based on the avalanche of advertising about how great her performance was, and an hour and a half in, was all but yelling at the screen "SING THE DAMNED SONG AND FUCKING DIE ALREADY!" Also, what was with the cut-off date for the Memorium that effectively kept Roy Scheider out of the montage????
Eric is completely right about his 7 Oscar snubs. I'm so glad that they let Markéta Irglová from Once come back on to give her thanks. Jon Stewart blew, except for a few exceptional jokes. Okay, now I don't know if I'm the only one that feels this way, but the whole Bourne series sucked. Honestly, I thought the storyline was completely weak, overdone, an unoriginal. For the first movie the storyline was just an excuse to have Matt Damon kick ass. The only redeeming factor in any of the series were the scenery shots from all parts of Europe. It did not deserve any awards. There Will Be Blood got royally shafted this year. PTA was completely due for best director. It wasn't even nominated for best original score, and Jonny Greenwood did an amazing job. I would have felt better if they had just completely ignored the movie. Giving it the nod for best actor and cinematography but nothing else makes me feel terrible.
Since when the definition of a documentary change? A documentary is supposed to be a film that does not reveal the filmmakers personal bias.
Crispy; A better editor than myself once told me, Hollywood execs are like flies, they swarm around honey and shit with the same amount of enthusiasm. Knowing a movie doesn't deserve a nod doesn't automatically make you hater, especially just because you might not adore it as much as the die hard fans, that's biased. This goes for directors too.
I wanted Ellen Page to win, but knew she didn't deserve it next to some of the other nominees. She definitely deserved to be nominated though. I am also kind of glad that Jason Reitman didn't win, because if he had, it could have directed hatred from all the No Country/Blood fans, and that could have potentially tainted the rest of his promising career.
What is the deal with Transformers??!?!?! I thought that was a definite winner! I mean the special effects were far greater than those in The Golden Compass. I at least thought they would make up for it by giving Transformers some sort of sound, but instead it went to The Bourne Ulitimatum? WTF is that? I'm not saying it was bad or anything but I mean give Transformers some credit. Michael Bay will just have to up it for Transformers 2, and maybe someone will open their eyes and see how awsome the FX were!
Nah that's ridiculous. If they were to do that, Scorsese and Spielberg would probably win every year. Ill agree with the Bourne ultimatum only for the editing because I've yet to see it (not really interested in it), I figured if it was anything like the previous ones, there was tons of footage (primarily handheld) to sort through, so that alone should be worth something I suppose. Just hard to believe it would beat Dylan Tichenor's work on There will be blood, I mean that film was flawless editing wise.
Diablo Cody absolutely deserved to win. It's funny how all the Juno haters just can't accept it. The critics loved the movie. It's one of the biggest grossing sub-$10 million budget movies of all time. The moviegoers love the film. And now the Academy has even awarded Diablo for her incredible work. Face it, you're not in touch with 99.9% of the other people on this planet.
Sweeney Todd and Hairspray clearly had better songs than, say some of the Enchanted songs or the August Rush song, but they weren't written specifically for those movies, but for Broadway musicals that were later turned into movies. It's kind of like why Across The Unierse didn't have any songs nominated. Ha. It was nice to see Once take something.
how in the hell did atonement beat 3:10 to yuma in best original score, transformers wtf! that should've at least gotten one win..... too bad i really wanted PSH to win BSA....
i'm shocked at all of the people shocked that ellen page didn't win? really? most of you probably haven't seen marion's performance as edith piaf which is simply breath taking or any of the other nominated performances, all of them more deserving than ellen page.
Eric: the songs in Hairspray and Sweeney Todd weren't original. At least to the movie.
thoughts: didn't love Once at all but that song is incredible, and that scene is incredibly moving. well done on jon stewart's part letting her talk. marion cotillard is a great winner and so is the obvious javier bardem. i'll repeat the sentiments of many above me: paul thomas anderson was absolutely shafted. imagine: technically, the bourne ultimatum has more oscars than there will be blood. ultimatum was a great movie for what it was - and deserved the awards it received - but PTA totally deserved both awards. maybe the academy members didn't bother to see it? and it's about time he gets recognized for his entire filmography - boogie nights? magnolia? the often under-appreciated punch-drunk love? ugh.
I think it's rather snarky and illegitimate to say that the Coens were rewarded for their combined filmography. I'm fine with them getting best director and picture, even if I might have preferred TWBB for picture. That said, the one thing that I think really should have been switched was Best Adapted Screenplay. The NCFOM script was fantastic, but it's basically just the book lifted right off the page. The incredible dialogue, pacing, characters, even scene- by - scene are from the book. I really think any decent screenwriter could have done a comparable job with that very cinematic novel as the source material. And as such, I think PTA really should have gotten Best Adapted Screenplay. Swinton was fantastic in Michael Clayton, and while it was a surprise, I certainly felt like Ruby Dee and the girl from Atonement were definitely the bottom two choices.... and I began to have second thoughts on Blanchett's status as the frontrunner. Ryan was also very very good. But Michael Clayton had to get an award and I felt like this was a way for it to get something and for Juno to get something, because the only other award I saw Clayton having a shot at was a different option for Original Screenplay, which was really Juno's only chance.
Well I wouldn't say he got shafted. The awards are really only as good as the emphasis behind them and those giving it out. I was almost certain that if There will be blood won for best Director, No country would win best picture, or vise versa, I didn't expect both. It's anyone's call though, cause both films were amazing and equally brilliant. Never know how they decide such things on a technical level in the long run (the academy). But christ, Michael FX Bay is in the Academy so I'm surprised the film with the most explosions didn't take it. :P The strangest moment, the shot of the Coen brothers with Scorsese behind them almost apprehensive, what the hell was that?
Oscar choices were bad this year 1. How did Transformers lose? 2. How did Ellen Page NOT win best actress? 3. Why did the Bourne film win three oscars? The sound was just punching for crying out loud! 4. How did TWBB NOT win best picture!? 5. Why wasn't The Simpsons Movie nominated but Surf's Up was? 6. Why was Norbit nominated? Of all films? 7. Plus, why didn't Sweeney Todd get a nomination for any of its songs or Hairspray?
PTA deserved best director, not picture. Matter of opinion, though. It's also funny-ish that The Bourne Ultimatum won more awards than TWBB.
marion's win was surprisingly refreshing, didn't know that the academy could actually get it right. way to go marion. diablo cody - predictable and undeserving. once again hype > talent, its hollywood so what can you do? Paul Thomas Anderson got shafted, for best director and picture. DDL - gracious and talented.
Visit here to subscribe to these comments
---
Recommended Feeds/Actions