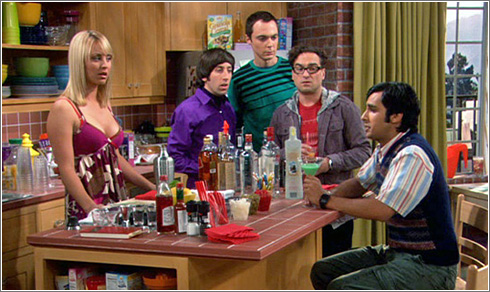 The Big Bang Theory, imagen de CBS.com.

The Big Bang Theory de Chuck Lorre y Bill Prady. Reparto: Johnny Galecki, Jim Parsons, Kaley Cuoco, Simon Helberg, Kunal Nayyar.
Hasta la fecha se han emitido ocho episodios de la primera temporada de la serie más "nerd" que se puede encontrar en la parrilla de televisión. Se emite por la CBS en EE UU y por Warner Channel en Suramérica.
The Big Bang Theory trata de dos cerebritos que comparten piso, Leonard (Johnny Galecki) y Sheldon (Jim Parsons). Aunque ambos están doctorados en física teórica y son capaces de calcular la probabilidad sobre la exitencia de universos paralelos, no tienen ni la menor idea de como relacionarse con el resto del mundo, especialmente con las chicas.
La serie comienza con la llegada de Penny (Kaley Cuoco), la nueva vecina que se instala en el piso de enfrente. Penny, que habita las antípodas vitales e intelectuales de ambos cerebritos, altera la tranquila vida sentimental de Leonard y resulta un continuo detonador para el desorden obsesivo-compulsivo de Sheldon.
Las emisiones de normalidad de Penny también provocan alteraciones sobre el resto de la pandilla: a Wolowitz (Simon Helberg) se le disparan las hormonas cada vez que la ve mientras que Rajesh (Kunal Nayyar) se muestra incapaz de emitir una sola vocal en su presencia.
Los diálogos son realmente agudos, combinando hábilmente terminología científica sin ningún sentido con referencias del MundoReal™, la ciencia ficción y la fantasía, en lo que resulta ser una sopa friki bastante hilarante, incluso para las —como las llamaría Sheldon— "personas comunes".
Te gustará The Big Bang Theory si te gustó The IT Crowd o si te gusta Carpoolers. Respecto a The IT Crowd, ambas series son muy similares de concepto (en resumen: ¡frikis!), aunque The Big Bang Theory tiene la virtud de ser notablemente más "nerd/geek/friki" y a la vez consigue ser como mínimo igual de graciosa. De hecho diría que en The Big Bang Theory he oído algunas de las conversaciones más absurdas y a la vez más graciosas de la historia de las series de televisión.
---
Visit
here
to unsubscribe.
Recommended Feeds/Actions