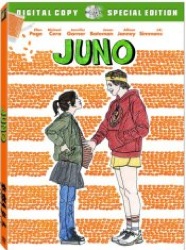 Juno hits DVD on April 15th 2008, and the special edition DVD features 11 deleted scenes.
Fox Searchlight has released an advance look at one of those scenes. "Cafe Triste" features Juno (Ellen Page) performing a one man show at a little cafe with best friend Leah (Olivia Thirlby) and always-awkward former semi-boyfriend Paulie Bleeker (Michael Cera) in attendance.
It should be noted that the color timing and audio was never finalized, which is typical of most deleted scenes released on DVD. Enjoy.
[See post to watch Flash video]
You can preorder the two-disc Juno Special Edition on Amazon.com for $22.99 (34% off the $34.98 retail price).