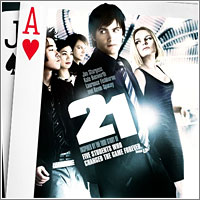 Nano nos recordó que en unas semanas se estrena en EE.UU. 21, que es la esperada película sobre el equipo del M.I.T que contaba cartas para ganar al BlackJack. El trailer que se está emitiendo en algunos cines españoles y que también se puede ver en la web promete que será entretenida.
Esta película está basada en una historia real, narrada en el libro Bringing Down the House: The Inside Story of Six MIT Students Who Took Vegas for Millions, del cual se publicó un adelanto hace cinco años en Wired, titulado Hacking Las Vegas. Este legendario grupo, que creó «tradición» en el M.I.T. actuó en Las Vegas y otros casinos entre 1992 y 1999. Terminó sus andazas cuando los casinos localizaron, ficharon e impidieron a sus principales integrantes entrar en las salas de juego (lo que no sabemos es cómo terminan… en la película). Más de 3 millones de dólares ganados en ese periodo de tiempo dan fe de lo bien que funcionaba su sistema, basado en el conteo de cartas clásico, al que añadieron algunas mejoras propias de hackers con ciertas habilidades de ingeniería social como toque extra.
Actualización: Aquí está también el trailer de la película en castellano: 21 BlackJack [DailyMotion]. ¡Gracias, Sergio!