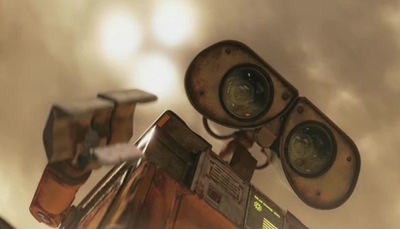 The new movie trailer for Pixar's WALL-E will be attached to National Treasure: Book of Secrets. But you don't have to wait to see it, because Disney just released the new preview on the Fox network websites. This is by far my most anticipated movie of next year, narrowly beating out The Dark Knight and Iron Man (I can see those angry comments now). The new trailer shows WALL-E playing with human toys while cleaning up abandoned earth when a spaceship comes down and changes everything. The last bit at the end with the spaceship rocketing through the satellites doesn't look as polished in low resolution. I'm sure the new trailer will be available in High definition quicktime before week's end. Watch the new trailer below and as always, tell em what you guys think!
You can download a higher quality quicktime (640×360) on IGN.com. Wall-E hits theaters on June 27th 2008.
This looks really fantastic, its amazing how much emotion they can put into a robot. Cant wait for this.
I have to agree with Raul, I think this will be my favorite Pixar movie. I love their other films, but this one looks really great! I can't wait to see it, and I'll definitely be seeing it more than once on the big screen. Pixar delivers AGAIN! Take that Dreamworks! You'll never be as good as what the people at Pixar can create!
How can it be by far your most anticipated film of next year when it narrowly beats out two other pictures?
WOW. that looks even more amazing!! the animation is stupendous! really. i gotta stop watching this kinda stuff because it makes it just that much harder to wait.
Trailer still downloading, but from seeing the huge 3d Cardboard Wall-E at my local cinema I can't help but wonder if that Solar Energy meter on his front would pose a problem if he goes on a spaceship where there's no solar power. Unless regular light works. In which case nevermind.
I think this is going to be my favorite Pixar Movie!
Visit here to subscribe to these comments
---
Recommended Feeds/Actions