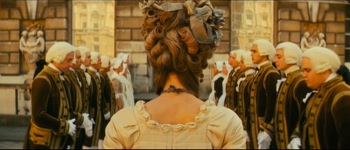 There is nothing I dislike more than a boring period drama. Keira Knightley seems to be obsessed with this genre. The teaser trailer for her newest, The Duchess is now online. The film is based on Amanda Foreman's best-selling novel 'Georgiana, Duchess of Devonshire', chronicles the life of 18th century aristocrat Georgiana, an ancestor of Princess Diana who was also celebrated and reviled for her extravagant political and personal lives. The movie also stars Ralph Fiennes as the Duke of Devonshire. Director Saul Dibb was responsible for the 2004 BBC movie Bullet Boy.
[See post to watch Flash video]
You can also watch the new teaser in High Definition on Moviefone. The Duchess will hit theaters in 2008.
Everytime I watch Ralph Fiennes , even if it is only for a brief moment, I get the feeling that acting- wise, he stands high, high above, from almost everyone else who is in the same film with him. His acting is so mesmerizing to watch. Keira Knightley should have changed her body language for this one, surely this was not the way women walked those days.
I read the book (it was a bio, not a novel, btw). It suffered from Foreman being a little too entranced by her subject, but that happens sometimes. Anyway, the most important parts of Georgiana's life were her involvement in politics and a gambling problem of such staggering proportion that it would have wrecked the Hiltons. This movie looks incredibly bland.
Visit here to subscribe to these comments
---
Recommended Feeds/Actions