SpikeTV won't air the

Scream 2008 Awards

until Tuesday night (at 9:00pm et/pt), but the award show has already been filmed. We have a listing of the complete winners for those who are interested.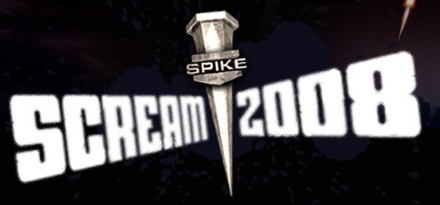 I've organized the results into Dark Knight Award winners and Non Dark Knight Award Winners… you'll see why.
Dark Knight Award Winners
The Ultimate Scream Movie: The Dark Knight
Best Comic Book Movie: The Dark Knight
Best Sequel: The Dark Knight
Best Superhero: Christian Bale as Batman in The Dark Knight
Best Villain: Heath Ledger as The Joker in The Dark Knight
Best Actor in a Fantasy Movie or TV Show: Heath Ledger in The Dark Knight
Best Supporting Performance: Gary Oldman in The Dark Knight
The Holy Shit! Scene of the Year: The Big Rig Flips Over in The Dark Knight
Best Director: Christopher Nolan, The Dark Knight
Best Screamplay: The Dark Knight by Christopher Nolan, Jonathan Nolan and David Goyer
Best F/X: The Dark Knight
Best Line: "I believe whatever doesn't kill you makes you stranger" by The Joker in The Dark Knight
Non Dark Knight Award Winners
Best Science Fiction Movie: Iron Man
Best Actor in a Science Fiction Movie or TV Show: Robert Downey Jr. in Iron Man
Best Fantasy Movie: Hellboy II: The Golden Army
Best Horror Movie: Sweeney Todd
Best Remake: Halloween
Best Screen to Comic Adaptation: Buffy the Vampire Slayer, Season Eight
Best Actor in a Horror Movie or TV Show: Johnny Depp in Sweeney Todd
Best Actress in a Fantasy Movie or TV Show: Angelina Jolie in Wanted
Best Actress in a Horror Movie or TV Show: Liv Tyler in The Strangers
Best Actress in a Science Fiction Movie or TV Show: Milla Jovovich in Resident Evil: Extinction
Breakout Performance: WALL-E in Wall-E
Most Memorable Mutilation: Bitten by Vagina with Teeth in Teeth
Best TV Show: Dexter
Best Comic Book: Y: The Last Man
Best Comic Book Artist: Gabriel Ba, The Umbrella Academy: Apocalypse Suite
Best Comic Book Writer: Grant Morrison, Batman, Final Crisis
Most Shocking Comic Book Twist: The X-Men Disband After Professor X is Shot in the Head by Bishop